Fully Cooked Thanksgiving Dinners in San Diego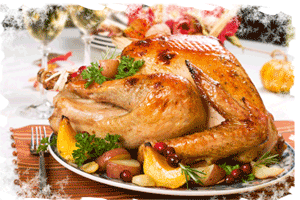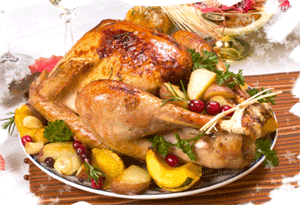 This year save your time and let us cook a holiday meal for your family. Elijah's Restaurant and Catering offers great dinner choices to make 2018 Thanksgiving unforgettable.
All Thanksgiving dinners will be specifically prepared and cooked at the time you will request and can be picked up at one of our location or delivery can be arranged. All the food is served in aluminium containers so it will be easy for you to keep it hot or warm it up if needed. All it takes afterwards is to take thanksgiving turkey out of the pan and serve to your guests. Don't forget that all the turkey dinners include cranberry sauce and turkey gravy. A great alternative to the thanksgiving turkey can be our tender beef brisket or ham. With the wide selection of side dishes and our homemade pies you can be sure to satisfy all your guests and make this holiday day a really unforgettable experience.

Please place your order ahead of time. Don't forget that this year Thanksgiving day is on Thursday, November 22th.

Elijah's Restaurant wishes you a Happy Thanksgiving!
Turkey Dinner - $150
Fresh Roasted Turkey (~13lbs)
1lb of Turkey Gravy and 1 lb of Cranberry Sauce
Includes a choice of 2 sides
Serves 10 people
Beef Brisket Dinner - $150
Our Tender Roasted Beef Brisket
Includes a choice of 2 sides
Serves 10 people
Ham Dinner - $150
Fully Cooked Spiral Ham
Includes a choice of 2 sides
Serves 10 people
Side Dish Choices:
Mashed Potatoes
Stuffing
Sauteed Vegetables
Baked Yams

Add an extra side for $20
Add 9" pie with purchase of any dinner - $10
Apple Pie
Pumpkin Pie
Pecan Pie
If you are looking for additional desserts or cakes, you can purchase them at our Bakery.
Pick Up or We Can Deliver
You can pick up your Thanksgiving Dinner at:
Elijah's Restaurant
7061 Clairemont Mesa Blvd, San Diego, CA 92111

Deliveries are available upon request at extra charge.

To place an order call catering direct line at (858) 353-5528 or
fill out this order form and fax it to (858) 455-9529.
Thanksgiving Dinner Special
Thanksgiving Dinner Special - $22.95*

Choice of Soup or House Salad

Freshly Carved Turkey Off The Bird
served with mashed potatoes, sauteed vegetables and all the fixings!

Includes Fountain Beverage and Slice of Pie

(children under 10 - $12.95)

Reserve your table today!

*not valid with any other offer or discount
Prices and availability are subject to change without prior notice.